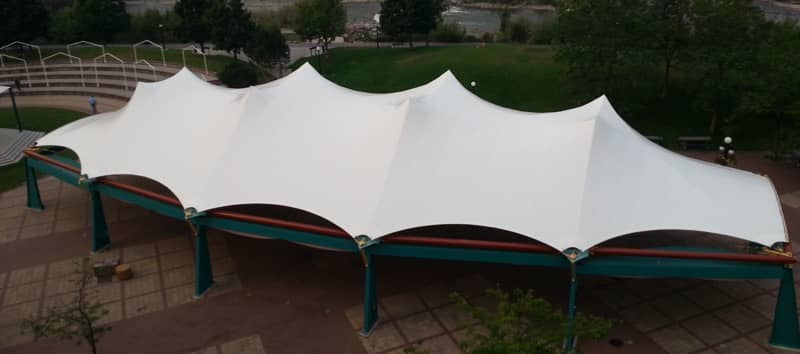 It's easy to make mistakes when designing and constructing a fabric structure. Below are the seven most common pitfalls of building fabric structures and how to avoid them.
1. Truss Selection
Open web trusses can be an attractive option when constructing fabric structures due to their lightweight nature and low price point. There are some stark differences between solid steel and open web trusses.
Open web trusses are hollow, meaning any sign of corrosion is often hidden inside the tube. Early indication of potential failure may not be caught in time, and the entire truss may need to be replaced. The individual trusses are welded together, which may create another potential failure point. Steel beams are generally used to create rigid frames. These beams are solid materials and galvanized, which may result in a longer life expectancy.
2. Mono-Covering
Mono-covering a building means stretching one piece of fabric over the entire structure, attaching the membrane to the end frame only. While the fabric is supported by the center frame, it is not attached, thus leaving it susceptible to damages from wind, excess weight, etc. Too much pressure on the two end frames can lead to disaster - including total building collapse. Covering your fabric structure with individual panels is a much safer option that can save you both time and money in the long run.
3. Fabric Tension Does Not Mean Stability
A common mistake seen with fabric structures is relying on the fabric to provide support for the rigid frame. The stability of your fabric structure depends on what lies underneath the fabric, so pay close attention to the specified frame. If it is not as stable as you need it to be, don't count on the fabric covering to make up the difference.
4. Ignoring Local Codes
Every city has their own building codes that you must be aware of when constructing a fabric structure. These codes include requirements regarding the weather typical for your area, including absorbance minimums for snow and wind forces. If ignored, you could experience total building failure depending on the severity of the forces. Better to be safe than sorry, especially if people will be occupying your building the majority of the time.
5. Picking Any Installer
Not all contractors and crews have experience when it comes to installing fabric structures. Accidents and misapplications can happen no matter the crew, but they are far more likely with those who are inexperienced. Do your research before hand and find installers who are familiar with fabric structures. This will ensure that your building is constructed both safely and efficiently.
6. Overlooking Foundations
An inadequate building foundation can mean disaster for your fabric structure - even if your building falls into the 'temporary' category. Your structure depends on its foundation for everyday support as well as support during extreme situations. If the weather is unusually terrible, a weak foundation can compromise the integrity of your entire building.
7. Compromising What You Want
Some builders will insist that your building follows the same rules as traditional brick and mortar buildings. However, fabric buildings (when installed properly) are just as safe and allow you to customize the look of your building almost anyway you desire. Don't settle for a fabric structure that does not live up to your expectations.
What other mistakes do you commonly see when working on a fabric structure project? Share your thoughts in the comments.
---
Content repurposed from: Legacy Building Solutions