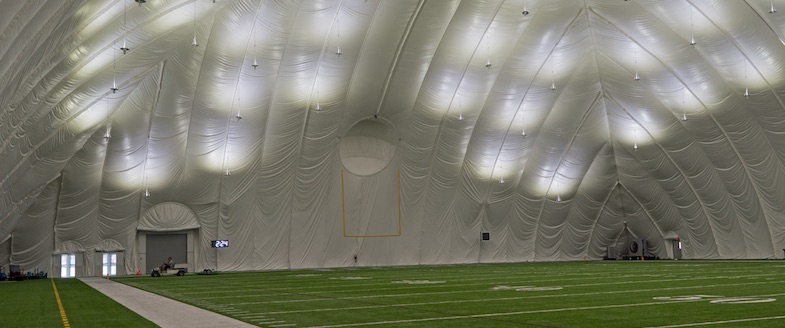 Air structure domes are popular for a wide range of athletic applications, from tennis to football. Any activity that benefits from a climate-controlled space can cost-effectively get a long, flexible life from an air structure dome. Their benefits tend to inspire repeat business, like when the Tennessee Titans recently wanted to replace the dome of their air-supported practice facility.
In this case, the Titans had an existing dome with Tedlar 8028 fabric on it. At more than 15 years old, the fabric was holding up well, but the team wanted some structural updates, such as the ability to hang LED lights and other devices from cables within the structure. They also wanted a skylight to allow for more natural light to penetrate the dome.
With a lot of time having passed since the construction of the prior dome, the Titans had some new products to consider. Air Structures American Technologies, Inc. (ASATI) was contracted to build the structure. Here's how ASATI went about evaluating materials for this project:
Longevity
The Titans wanted something that would last at least as long as the Shelter-Rite Tedlar 8028 used on the prior structure. In fact, the Tedlar had outlived the original fabricator of the dome, which no longer builds air structures. The team wanted something with a long warranty, in addition to a proven track record.
UV protection is vital to longevity, so the fabric needed to be able to handle both the four seasons and solar rays. If the right coating isn't selected, UV light will break down coatings on many fabrics in well under 10 years, which degrades the entire dome in the process.
Appearance
With architectural fabric, looks matter for more than just aesthetics. That's because accumulated grime and mold break down coatings and destroy fabrics. Self-cleaning products reduce or eliminate this persistent threat and look great while doing it. Most fabrics self-clean well when new, but this ability can fade quickly with time. It's important to look for a product that's truly self-cleaning throughout its lifetime. It protects the structure, better retains color, keeps it looking great and makes maintenance a snap.
Most of the Titan's practice facility dome wasn't translucent, but the design called for a translucent element at the top, allowing for less use of artificial light. This called for a product with excellent translucency for the skylight.
Strength
ASATI's structure uses a cable net that holds down the dome, prevents damage and enhances appearance. A fabric with very high tensile strength was important to allow for the cable system and deliver lasting, reliable service.
The strength of the coating is vital to longevity as well. The Titans wanted a coating with an excellent adhesive compound that actually bonded to the fabric to further enhance strength.
Origins
Supporting U.S. manufacturers whenever possible is important to the Tennessee Titans. The team wanted as much of it to be domestically produced as possible. In addition to supporting domestic workers, this had other advantages. It allowed for shorter lead times, faster turnaround and better support and service through dealing with technical experts in the U.S. as opposed to overseas.
The Choice
Based on all the criteria, the dome was made with the very same fabric used on the prior structure—Tedlar 8028. The Titans chose it for its long and proven track record of strength, and the team's confident it will look good throughout its lifespan and perform as well as it does new for decades to come.
Each fabric structure is unique, and your priorities may differ. To help understand the pros and cons of various fabric options for air domes or any other architectural fabric structure, contact Shelter-Rite.