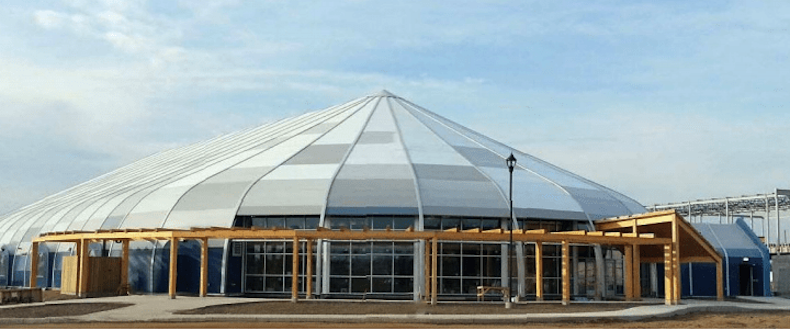 Shelter-Rite® Architectural Fabrics provide exceptional strength and longevity to any building project. Because it's offered in an array of top finishes, we're often asked which one is best. The answer really depends on the unique factors of your job requirements, aesthetic goals, environment, maintenance costs, return on investment and budget.
Here we'll look at two of the most common choices in top finishes—DuPont Tedlar® and standard PVDF. Both of these are very good options, but in a demanding environment, especially where color is concerned, premium Tedlar is an outstanding choice. Here's why.
Check the Film
Tedlar coatings are naturally thicker because they are applied in the last stage of coating as a 1 mil film. It starts out 10 times thicker than the .10 mil PVDF or acrylic coating.
The properties of that coating are even more important than the thickness. PVDF delivers outstanding initial performance but degrades in both appearance and effectiveness over time and exposure to UV radiation. As PVDF ages, it tends to wear away and can completely disappear within 10 years of harsh exposure, leading to further breakdowns of color and effectiveness.
Tedlar has a proven track record of significant outperformance in both thickness and appearance. See figures 3 and 4 in our whitepaper to learn more.
Looks Matter
Tedlar's excellent durability, colorfastness, stability and warranty keep buildings looking better longer. That's important not just because it's nice to have an aesthetically pleasing building, but good looks will help your fabric perform longer as well.
Tedlar is a cousin of DuPont Teflon, and like Teflon, it's designed to keep things from sticking to it. This makes for natural self-cleaning properties. Dirt, grime, chemicals and soot often wash off with rain or snow. This extends fabric life and reduces maintenance costs.
Resisting dirt makes a fabric look better and last longer too. Persistent dirt and grime on fabrics that don't self-clean can cause much faster breakdown of color and exacerbate the issue of holding dirt and grime in the first place. Dirt and grime also contribute to mold and mildew growth, which impacts the visual appearance of the fabric.
UV Resistance Is Key
Topcoat selection is critical for long-term UV protection and dirt resistance on any fabric structure.
Tedlar's extreme UV resistance keeps UV light from penetrating to the fabric, protecting it and extending its life. This resistance also helps prevent the cracking and crazing that leads to fabric damage. Because PVDF allows light to penetrate, the pigments in its coating must stand up to the UV rays. When the pigment eventually breaks down, the fabric is exposed.
Shelter-Rite Tedlar has a life expectancy of 20 years, and its warranty includes colors. This is an important factor if you're choosing a color other than white because white naturally reflects UV and generally lasts longer. Tedlar comes in 11 standard colors.
Thriving in Harsh Environments
Tedlar's inherent self-cleaning advantages and composition make it extremely chemically resistant. This is important in mining and other industrial conditions, but it's very important for applications like restaurants, where kitchen exhaust can wreak havoc on a fabric structure.
One national fast food chain with 4,000 locations chose Tedlar for that very reason when it was upgrading branches. Given the large investment, the fast food chain tested Tedlar's grease resistance against PVDF. Ten years later, those fabric structures are still going strong in a wide variety of environments across the country.
Pay More, Get More
Any architectural fabric is a significant investment, so you want to get it right. Fabrics are trusted to protect permanent structures like churches, sports centers, restaurants, military, oil and gas facilities, hotels, ski resorts, casinos, airports and applications.
It's important to think of how that fabric will age when amortizing costs and budgeting.
If you'd like to know more about various topcoating options, contact the Shelter-Rite technical team for a consultation.