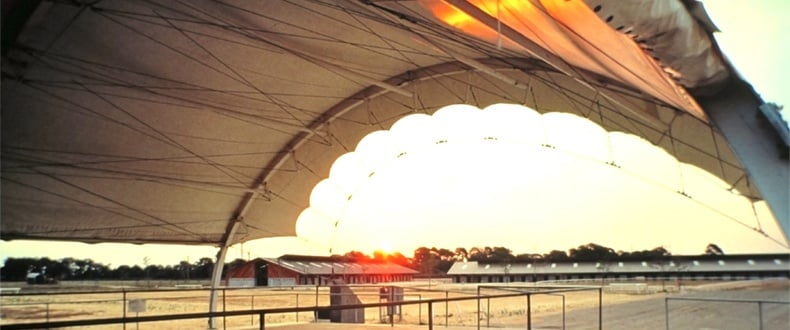 Top finishes have been extending the useful life and improving the aesthetics of PVC-coated structural fabrics for decades. These top finish technologies make fabric structures more durable, cleanable, UV resistant and attractive—and they continue to improve.
Top finish systems can be divided into two groups:
1. Liquid-applied top finishes (i.e., solvent- or water-based coatings), such as acrylics or PVDF

2. Film-applied systems, such as Tedlar® or some PVDF films
However, not all top finishes deliver on the self-cleaning feature, which is critical for long-term performance and appearance. Architectural fabrics with Tedlar film top coats are the only products that truly deliver on the ability to self-clean over the long term. Tedlar's UV performance cannot be overlooked either. Excellent resistance to UV and moisture-barrier properties preserve the appearance and longevity of the architectural structure.
With a number of options on the market, it's important to understand the characteristics of each top finish/film to select the best possible product for a given project. This is particularly important because the longer the top finish prevents dirt from adhering to the surface of the fabric, the longer they will remain attractive and—more importantly—last. That's because dirt is not just unattractive; it also can promote fungal growth and ultimately degrades the fabric.
Options
Today, these top finishes are widely used for fabric structures. They all perform very well but differ in their respective capacities for self-cleaning, longevity and UV resistance.
Polyvinyl fluoride (PVF, trade name Tedlar film); self-cleaning

Tedlar has been effective for more than 30 years in Shelter-Rite architectural fabrics. Its flexibility allows for easy installation, and its durability and long-term performance are unmatched. Because of its durability, it is the only product that effectively self-cleans throughout its entire lifespan—a factor that extends its usable lifespan and helps it to remain aesthetically pleasing beyond the range of competitors.
Polyvinylidene fluoride (PVDF, trade name Kynar®)

Kynar® PVDF has provided protection against corrosion and superior color fastness in the metal structure market for more than 40 years, but more recently entered the architectural coated fabric market. Kynar® PVDF liquid-applied top finishes provide a consistent, high-performance finish and excellent barrier properties that resist environmental degradation and dirt accumulation.

PVDF/acrylic weldable and non-weldable

Non-weldable PVDF top finishes are a blend of PVDF resin with acrylic and polyurethane resins. The formulated top finish has significant levels (over 30%) of PVDF resin and as such cannot be welded without first grinding the top finish off the surface of the material. Weldable PVDF is blended with the major resin as acrylic, and it is weldable to synthetic resins. Its lower PVDF content (less than 20 % PVDF) and high acrylic content make it more susceptible to UV degradation and dirt accumulation.
Acrylic

Acrylics are popular top finishes on architectural membrane structures. They can be formulated with different acrylic resins and other additives, so all Acrylic finishes are not the same. They are applied to the surface of the coated fabric in a very thin layer and inhibit dirt collection well when new.
Key Considerations
All top finishes and films essentially do the same thing when new. The important indicator of effectiveness is long-term performance. A study simulated nine years of wear on Tedlar, PVDF and various acrylics, measuring the most important factors to consider:
Cleanability

Dirty fabric structures are also structures that are under attack. Dirt causes a material to support mildew growth and ultimately fail sooner. Look for a long-lasting top coat that has nonstick properties that allow rain to clean most or all contaminants away. Cleanable fabrics will also be resistant to graffiti, grease, chemicals and other harsh environmental factors. This is particularly important in restaurant or industrial applications. Tedlar is a high-grade top film applied over the last PVC coating, making it truly self-cleaning and the longest lasting. Other top finishes are excellent at resisting dirt, but not truly self-cleaning.
Thickness
All top finishes erode over time, so starting thicker is advantageous. Tedlar starts at one mil, more than double the thickness of other finishes. In the test, it also only lost roughly 20% of its thickness, as opposed to acrylics, which disappeared after about five years, and PVDF, which was gone after eight or nine years. The longer a top coat lasts, the longer the structure is effective.
Durability

Look for a coating with a long track record of real-world results. Long-term performance matters and some products have been protecting structures well over 20 years. As any top finish erodes, it becomes duller, degrades and loses its ability to resist the accumulation of dirt, dust, pollen, chemicals, grease and other contaminants.
UV resistance

Ultraviolet rays cause coatings and fabrics to degrade, and can even lead to cracking and failure. Stronger, more durable coatings will retain their properties longer, providing greater color stability as well. Retaining pigment allows for more reflectivity, which reduces solar heat gain. Both Tedlar and Kynar® resin provide excellent UV protection.
Making the Choice
Selecting the right top finish will extend the life expectancy, reduce the maintenance and improve the aesthetics of any architectural fabric structure. When specifying a top finish, consider how it will be used and what it will be exposed to, and don't forget the importance of the underlying material.
The following Top Finish Selection chart considers the primary variables to consider in your project:
| | | | | |
| --- | --- | --- | --- | --- |
| Property | Acrylic | PVDF/Acrylic Weldable & Non-Weldable | PVDF (Kynar®) | PVF (Tedlar) |
| Weather resistance | 2 | 3 | 4 | 5 |
| Chemical resistance | 2 | 2 | 5 | 5 |
| Water repellant | 3 | 3 | 5 | 5 |
| Mildew resistance | 3 | 3 | 4 | 5 |
| Dirt pick-up | 3 | 3 | 4 | 5 |
| Cleanability | 3 | 2 | 4 | 5 |
| Stain resistance | 2 | 3 | 5 | 5 |
| Retention of color | -- | -- | 5 | 5 |
| Abrasion resistance | 2 | 2 | 3 | 5 |
| 1 being worst, 5 best | | | | |

All products will perform well for a year or two. Many will even self-clean for that amount of time. The top finishes that deliver real value will perform well—and self-clean—for decades.
To learn more about top finishes for architectural fabrics, contact Shelter-Rite.
Kynar® and Kynar Aquatec® are registered trademarks belonging to Arkema Inc.