Expand the Possibilities of Your Fabric Dome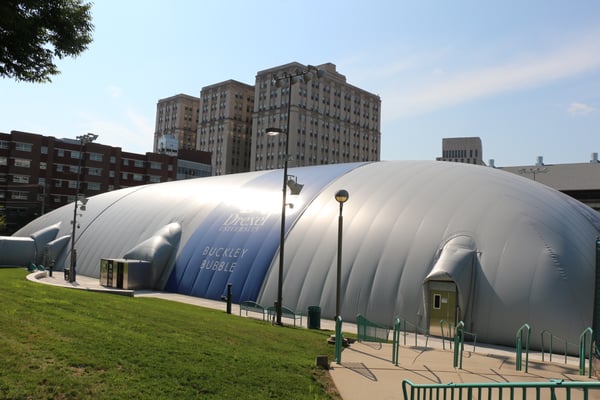 Fabric dome structures are popular for a wide range of athletic applications, from football to tennis. If your next project is an air dome structure that needs to be cost-effective, long-lasting and climate-controlled, Shelter-Rite® may be your solution.
Strength Is Required
Air-supported structures necessitate stronger fabrics. Selecting the right fabric for your structure also hinges on a variety of other factors and priorities to consider, including:
Lifespan
Cost
Colors
Light transmittance
UV resistance
Flame resistance
Deployment
Repairability
Discover the right fabric for your other architectural fabric structure projects today and explore the solutions we have for frame, tensile and tent projects.
Fabric Properties
Before you use coated polyester fabrics for your fabric dome structure, it's necessary to understand the performance properties of Shelter-Rite architectural fabrics. Some of these properties are similar to those of conventional building materials, but many are unique.
Tensile Strength
The maximum amount of tensile stress that a material can withstand—this is the first and most important performance property that needs to be considered when choosing a fabric.
Tear Resistance
The ability of a material to resist a tear or tear propagation may be critical to the structural integrity of the building.
Dimensional Stability
Materials change in size when exposed to different temperatures or humidity levels, and these changes need to be considered when engineering buildings.
Learn about all Shelter-Rite® fabric performance properties.
Top Coats, Colors & Translucency
Seaman Corporation offers the broadest line of top finishes for added protection against the elements, featuring Shelter-Rite® Brite™ fluoropolymer technology.