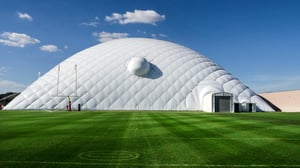 Shelter-Rite® Architectural Fabrics updated its Styles 8028 and 9032 opaque fabrics with Acrylic, PVDF top finishes and Tedlar® film.
The change includes the removal of the black PVC back-coat layer and providing opacity by applying a black adhesive coat to the base fabric.
Advantages of the new material include:
Still maintaining 99+% sunlight-blocking capacity
Still blocking all UV light
Same 20-year warranty on styles 8028 and 9032 white with top finishes
Same 20-year warranty on styles 8028 and 9032 with Tedlar film
Reduced weight of the finished product; 8028 W/OPM/W will now be 28 oz./sq. yd. versus 32 to 34 oz./sq. yd. on the old material
Easier to handle and ship because of the reduced weight
Less or no black compound flow-out at the weld lines; better aesthetics on the final structure
Shelter-Rite can still produce opaque fabric styles 8028 and 9032 with the "blackout layer" if required by the customer.
Durable, cost-effective and versatile, architectural fabrics have been used on thousands of different types of structures and have protected many people and pieces of equipment from the elements in a wide range of environments.
To learn more about Shelter-Rite's updated opaque fabrics, or to speak with an expert about how to choose the right architectural fabric top finish for your job, contact us today.