Tedlar (PVF), part of the fluoropolymer family, is a thermoplastic film with a repeating vinyl fluoride unit. The inertness of the polymer offers resistance to a wide range of chemicals, solvents and staining agents. Used widely in the aerospace industry, Tedlar preserves the appearance and longevity of substrates thereby reducing waste and the consumption of energy and raw materials, and drives down the use of environmentally harsh cleaners and paints. The following are the features and benefits provided by this superior finish:

---
| | |
| --- | --- |
| Features | Benefits |
| UV/Weather-resistant | Provides outstanding resistance against fading, cracking, and crazing |
| Cleanable | Graffiti-resistant; preserves aesthetics with reduced maintenance |
| Flame | Inherently Flame Resistant |
| Nonstick | Excellent release material reducing dirt accumulation that supports mildew growth |
---
Consider Architectural Fabrics With Tedlar PVF Film
Seaman Corporation's best top coating system is the application of a Tedlar PVF film to the top surface of our Shelter-Rite® architectural fabrics. Tedlar PVF film is a fluoropolymer material that is produced by DuPont. The product is only made in a film form, ranging in thickness of 1 mil to 3 mils.
DuPont® has been producing Tedlar films for over 50 years. Tedlar PVF is chemically similar to Teflon, and so it has great chemical resistance and a very low coefficient of friction. Major uses of Tedlar are backing materials for photovoltaic panels, with a life expectancy of over 20 years. Another major market for clear Tedlar films is on thermoformed panels used on the inside of commercial aircraft. The Tedlar film provides graffiti resistance and makes the surfaces very easy to clean.
Seaman Corporation was a pioneer in using the Tedlar PVF film products for flexible PVC-coated fabrics; making the first Tedlar-coated architectural fabric in the mid-70s. Seaman has perfected the application of the Tedlar film to the PVC surface, eliminating any concerns of delamination. We are so confident in our bonding process that we include protection from delamination in our 20-year warranty for Tedlar materials.
Architectural Colored Tedlar PVF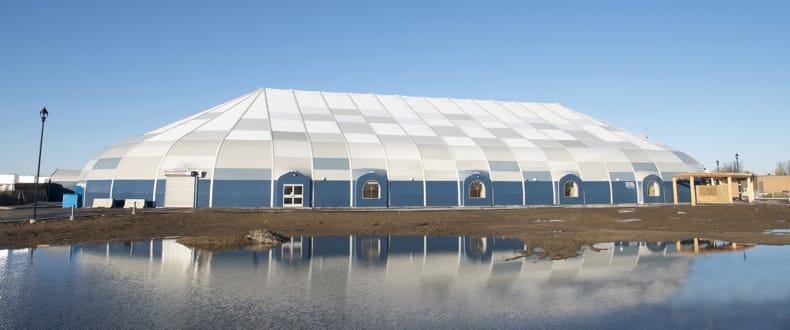 In addition to Shelter-Rite Brite™ White Tedlar products, Seaman Corporation produces a full line of architectural fabrics with the DuPont Tedlar architectural colors, offering 11 designer colors that greatly add to the appearance of the fabric structure. These colors also come with the 20-year Tedlar warranty that covers colorfastness, cleanability and film adhesion.
Seaman Corporation worked closely with DuPont to develop Tedlar films that are designed for Architectural fabrics applications, specifically the development of the Brite-White Tedlar film. This blue-white tint film can be used on both translucent materials as well as opaque fabrics. Translucent fabrics with the BW Tedlar can have light transmission as high as 12 percent and still have a 20-plus year life.
Seaman Corporation offers a range of top coating systems, and Tedlar is the most proven with a track record of over 35 years. Tedlar film is known for superior performance in exterior applications such as vinyl siding and architectural shingles and provides a high-performance, long-term, durable surface for excellent weathering resistance and colorfastness. With its outstanding resistance to the elements, Tedlar film comes with low-maintenance costs.
When it comes to top finish systems, most of them are not at all self-cleaning, which is critical for long-term performance and appearance. Shelter-Rite architectural fabrics with Tedlar films are the only products that are truly self-cleaning over the long-term. Tedlar also has the ability to resist UV radiation. Tedlar films are industry-tested and proven to provide superior protection against the elements, including UV light and dirt. These features help preserve the appearance and longevity of architectural fabrics.
Choose the Right Top Finish for Your Structure
When looking at the long-term performance of your structure, the initial design criteria for architectural fabric structures is critical. To ensure the performance of the structure, you must give consideration to tensile strength, flame resistance, weight, coating adhesion, type of coating and top finish. UV light, acid rain and other environmental elements can affect the performance of your structure. These elements can degrade the coating and top finish, resulting in exposure of the base cloth. A properly engineered architectural fabric will be designed to protect from the damage caused by these elements. That's where the top finish comes in. In addition to providing another layer of protection, a top finish improves the cleanability of your structure. Unlike standard top finishes, Tedlar provides color stability and exceptional protection of the architectural-coated fabric.
The Tennessee Titans know all too well about Tedlar finishes. In 2016, the team replaced and upgraded its air-supported practice facility. The Titans had an existing dome with Tedlar 8028 fabric on it that still looked good after 18 years, but they wanted some structural updates such as the ability to hang LED lights and other devices from cables within the structure.
Longevity, appearance and strength were all important to the Titans in their decision. They also wanted something manufactured in the United States. In addition to supporting domestic workers, this allowed for shorter lead times, faster turnaround and better support and service by dealing with technical experts in the U.S. as opposed to overseas. Based on all the criteria, the team went with the same fabric used on its previous dome—Tedlar 8028. They chose it for its long and proven track record.
To learn more about Tedlar finishes or to speak with one of our experts about how to select the right top finish for your structure, request a free fabric sample.