Bear Mountain Tennis Centre opens state-of-the-art air-supported structure for its members.

PROJECT DETAILS
Client: Westin Bear Mountain Golf Resort and Spa
Fabric: 8028 Opaque Black and White With TS-139 Acrylic Top Finish
Installed: 2018
Dimensions: 126' x 220' x 40'
Fabrication and Installation: The Farley Group - Air-Supported Structures
Project Story:
In October 2018, the Westin Bear Mountain Golf Resort and Spa in Victoria, British Columbia, unveiled its brand new four-court tennis bubble to the public and all tennis enthusiasts.
Western Canada's largest indoor-outdoor red clay court tennis facility, the dome was built by the Ontario-based company, The Farley Group, and took about 10 days to fabricate, with preparation taking 4 months and installation taking one week. Measuring 126' x 220' x 40', the spacious dome covers four red clay courts and is climate-controlled with energy-efficient lighting and interior seating.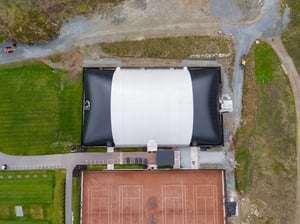 The client insisted on a black and white structure, which The Farley Group had never done before. After calling Seaman Corporation with a request for a black and white architectural fabric, The Farley Group got back to the customer, got an order and Seaman Corporation produced the material and delivered it in time for the structure to go into service this winter.
With the help of Seaman Corporation, Shelter-Rite Architectural Fabrics provided them with a solution using a combination of black and white 8028 opaque architectural fabrics with TS-139 acrylic top finish.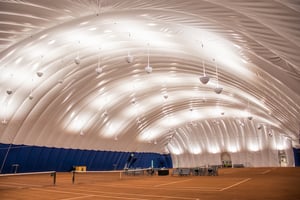 Everyone at The Farley Group was impressed by the look of the structure, which includes 48 LED lights providing in excess of 80-foot candles of light at the playing surface. The air-supported structure is a seasonal dome, meaning it will remain up for winter play until the start of the spring season in late April – early May when it will come down for the outdoor season. The dome will then go back up in the fall.
Shelter-Rite is The Farley Group's supplier of the outer fabrics it uses to fabricate air-supported structures. For over 40 years, Shelter-Rite architectural fabrics have been engineered with a proprietary coating formula for superior UV and mildew resistance, and unique weft-inserted knit fabric that provides excellent tensile, tear and seam strength. This time-tested technology has resulted in architectural structures that maintain long-lasting aesthetics.