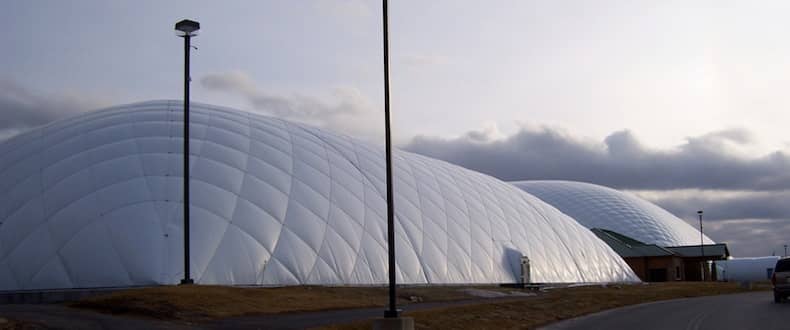 Air domes are a great solution for tennis facilities in challenging climates. These proven, durable and affordable fabrics create weatherproof environments that allow for comfortable year-round play.
Air domes are most popular in northern climates, where they protect against the chill of winter.These seasonal domes offer many advantages over permanent tennis facilities, including:
Lower initial costs. Air domes don't require any expensive construction efforts that a brick-and-mortar solution would.
Lower ongoing costs. Air domes are only heated and lit during the seasonal periods they are used. They require little to no ongoing maintenance, unlike permanent buildings.
Flexibility. Air domes can go over existing courts, so players can enjoy the summer sun with the dome deflated and stored, and play through the harshest winter under the dome.
Speed. The complete installation of a fabric air dome is a simple process that happens in a matter of days, requiring only a simple system of cables and pumped air.
Tennis domes using Architectural Fabrics are incredibly strong and durable, often lasting 20 years or more. A fabric air dome can be customized in a number of ways:
While most customers choose white, an array of custom colors are available.
The fabric can be opaque or allow light through to lower utility bills. Many customers choose a translucent roof, for example.
A wide range of sizes are available and easily altered to suit most any need.
Several top coats are available, with a warranty ranging from 15 to 20 years. Different top coats allow for better snow clearance, more durability and more longevity.
Several types of insulation are available to enhance energy efficiency.
The low cost, simplicity and effectiveness of tennis domes have made them a favorite of hundreds of customers. To learn how a fabric dome can keep a facility humming 365 days a year, contact us.