Entrance canopy featuring Shelter-Rite architectural fabrics retrofitted by Signature Structures protects visitors from the weather conditions, aesthetically matches the roof of the Van Wezel Performing Arts Hall in Sarasota, Florida.

PROJECT DETAILS
Client: Van Wezel Performing Arts Hall
Fabric: 3820 FRLTC
Installation: December 2019
Project Site: Sarasota, Florida
Project Management Company: Signature Structures LLC, 1901 Hay Terrace, Suite UL6, Easton, Pennsylvania 18042, Rick Sharp, rsharp@signaturestructures.net, 732-890-3026
Fabrication Company: Lightweight Manufacturing, 1139 Sumner Ave, Whitehall, PA 18052, Dirk Cos, (610) 435-4720
Project Story:
When Hurricane Irma slammed into Florida in 2017, the Van Wezel Performing Arts Hall in Sarasota, Florida, was one of the many buildings damaged.
A Frank Lloyd Wright Foundation hall, the Van Wezel offers music, dance, theater, comedy and family fun, in addition to Schooltime Performances and a collection of educational outreach programs for youth and lifelong learners.
Amid the storm, the hall's front canopy was damaged extensively and needed to be replaced. The new canopy had to:
Protect visitors from the weather conditions

Aesthetically match the roof of the main building
The client was adamant that the beige matched the color they wanted. Because it was a custom design, it wasn't a project just any company could take on. The Van Wezel needed someone who could match the color.
That someone was Shelter-Rite Architectural Fabrics, a division of Seaman Corporation.
"In general, fabric structures of all kinds, whatever they're used for, the fabric has a 20- to 25-year lifespan after which it needs to be replaced, so there is a significant need for companies that can go out and look at anybody's building and retrofit and refurbish a new membrane cover," said Rick Sharp, director of sales and project development at Signature Structures.
"Signature does more of that work than anybody else in the industry. We can design, engineer, manufacture and install fabric covers for any kind of building."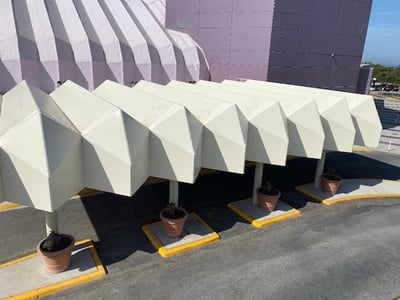 After multiple visits to survey the hall and remove the remainder of the old fabric, the Pennsylvania-based company put on the new fabric—3820 FRLTC from Shelter-Rite Architectural Fabrics.
In fact, Seaman Corporation's ability to custom color match was a huge selling point because none of Signature Structures' other fabric manufacturers could closely match the small amount of fabric used.
"We actually had to do a significant amount of hunting around to find a fabric that matched close enough to what [the Van Wezel] wanted," Sharp said.
Aesthetics make or break projects, which is why Seaman Corporation offers the broadest line of top finishes—each providing the additional protection against the elements your structures need to look their best immediately and well into the future.
Shelter-Rite architectural fabrics stay attractive longer and have superior UV performance that ensures color stability and a better top finish, allowing for much better cleanability. Aesthetics were extremely important to the Van Wezel since this project's success hinged upon its appearance and long-term performance.
Signature Structures also works with Seaman Corporation often on government projects that require American-made products.
"A lot of the fabric companies in the industry are based in Europe," Sharp said. "We often work with Seaman because of the flexibility of their design and also the fact that they're made in the USA."
For over 40 years, Shelter-Rite architectural fabrics have been engineered with a proprietary coating formula for superior UV and mildew resistance, and unique weft-inserted knit fabric that provides excellent tensile, tear and seam strength. This time-tested technology has resulted in architectural structures that maintain long-lasting aesthetics.
As an architect, aesthetics and design are of the utmost importance to you and your project. Choose from a vast array of high-quality Shelter-Rite products with the fabric properties you need to bring your vision to life.