When a company in the Northwest U.S. decided to build a new headquarters, it became clear to them that a fabric structure would take less construction time than traditional brick and mortar. Eleven months after construction started, the large fabric structure was move-in ready and turning heads for its unique design.

Project Details
Client: Private
Project Site: Northwest U.S.
Installation: January – November 2019
Fabric: Shelter-Rite® Style 8324 Kynar® and Tedlar® Coated Fabrics
Manufacturer: Sprung Instant Structures, Inc.
Installation: Sierra Construction Company, Inc.
Architect: NELSON Worldwide
Building Footprint: 225,000 sq. ft.

Project Story
In 2019, a 225,000 sq. ft. custom designed, clear-span structure was fabricated with Shelter-Rite® Architectural Fabric by Seaman Corporation for a company in the Northwest U.S. The option to build a fabric structure instead of a brick and mortar building provided a high-tech, sustainable solution for this growing company that took less time to build and was completed within budget.
Designed by NELSON Worldwide and manufactured by Sprung Instant Structures, Inc., the amazing design of this fabric structure features a 10,000 square foot mezzanine, outdoor garden, over 100 conference rooms, fitness facilities, open workspaces and auditorium. It is insulated with formaldehyde-free fiberglass insulation and is extremely energy efficient with translucent panels to bring in natural light. NELSON Worldwide is an award-winning firm headquartered in Minneapolis. It is a second-generation firm with a broad range of clients from diverse industries.
In addition to the interior design and functionality, long-term aesthetics were very important to the architect's vision. In order to maintain the vibrant color patterns, Architectural Fabrics with high-end exterior coatings were specified to provide additional protection against the elements and will keep the structure looking like new well into the future.
Shelter-Rite Architectural Fabrics offer a variety of color options, custom color-match and a broad line of top finishes and high-end coatings for long-term aesthetics. The superior fabric properties offer resistance to weather and fungus. Shelter-Rite provides high-performing fabric for air-supported domes, pre-engineered frame and custom designed tensile structures.
Fabric Properties

High-End Exterior Coatings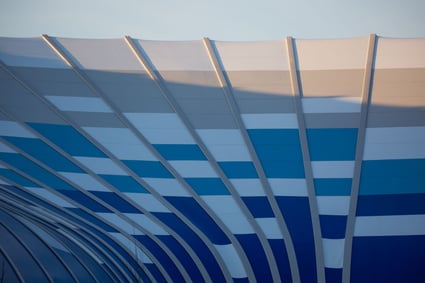 Shelter-Rite fabric style 8324 was selected for this project. To maintain the aesthetics of the fabric it was specified with a combination of Kynar® topcoat by Arkema and Dupont™ Tedlar® PVF film. Long-term aesthetics of a fabric building are greatly affected by dirt pick-up and color fading. Dirt pick-up is controlled by the quality of the top finish system that is applied to the material. Kynar and Tedlar both have outstanding dirt shedding properties and use long lasting pigments as they are formulated to provide superior color fading resistance.
Kynar® Topcoat
The unique property of a Kynar® top coating system is that it can be made in any custom color. The royal blue in the lower sections of the building had to be a custom color to match the building owners corporate color, so a Kynar® based coating was used to achieve this. Kynar has earned a reputation of maintaining a like-new appearance on many building envelopes to promote great dirt resistance and colorfastness. The unique chemical formulation retains its color for the life of the fabric.
Tedlar PVF Film
For the Misty Gray, Sky Blue and Brite-White fabric of the building, Tedlar PVF film provides resistance to dirt pick-up. It is basically self-cleaning to provide a high performance, long-term durable surface that exhibits excellent weathering resistance and color fastness. Tedlar is based on Teflon® technology. The translucent Brite-White Tedlar skylights in the building offer natural light to enhance the interior.
Weather & UV Resistance
The principle in extending the life of a structure is to maintain the tensile strength of the base fabric. Shelter-Rite's proprietary coatings are weather resistant and protect the base fabric from UV light.
Fungus & Mildew Resistance
To minimize potential problems caused by fungus and mildew, Shelter-Rite incorporates a fungicide into the coating compounds. The top coating system to reduce dirt collection on the material also assists in combating these fungal attacks.
Bottom line, Shelter-Rite's proprietary formulations, knits, weaves and coated fabrics ensure the project is covered from every angle.
Benefits of a Fabric Structure
The design flexibility, long-term performance, durability and lower overall cost are just some of the benefits that make a frame structure an attractive option. For this particular project, reduced construction time was a very attractive benefit. The time it would have taken to build a traditional brick and mortar building did not fit with the timeline of this rapidly growing company.
This project began in January 2019 with site preparation and eleven months after the ground breaking, the structure was complete. A brick and mortar building may have taken up to 3 years to complete. The urban location that was identified for this structure was an empty brown field. To fit the space and accommodate the desired size, a unique u-shaped structure was designed. The cost savings, quick construction and sustainability were all benefits that made this the right decision for the customer.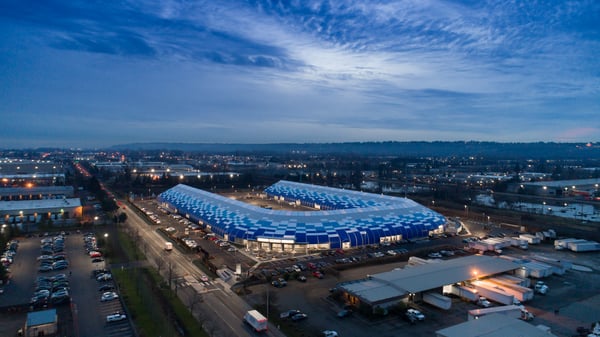 About the Fabricator
Sprung Structures is a veteran fabricator of permanent and temporary large-scale fabric structures for industrial and non-industrial applications. They design modern, high-end, clear-span structures as a versatile alternative to conventional construction. Some applications include churches, casinos, recreation facilities and event centers. Sprung understands the importance of long-term aesthetics and is committed to offering rapid construction, total design flexibility, unmatched performance and durability, and lower overall project costs. For more information, visit sprung.com.
Kynar® and Kynar Aquatec® are registered trademarks belonging to Arkema Inc.