In the foothills of the Appalachian Mountains in Pine Mountain, Georgia you'll find a truly unique resort destination. It's difficult to miss the large, green fabric structure that sits behind the beach pavilion. This custom structure has served as an event space for the resort for 45+ years. Read about the history and longevity of this unique fabric structure in this case history.
Project Details
Client: Callaway Gardens
Project Site: Pine Mountain, GA
Installation: Fall 2020
Manufacturer: Seaman Corporation
Project Story
The beloved Callaway Gardens Circus tent recently received a facelift. People from near and far who have visited this resort have fond memories of events they've attended under the big tent. This spacious fabric structure has been home to the FSU Flying High Circus and other events at Callaway Gardens since it was first installed in the early 1970's. A new skin was recently installed and the big tent is ready for the Fantasy in Lights season, a National Geographic-acclaimed light display, held yearly at Callaway Gardens.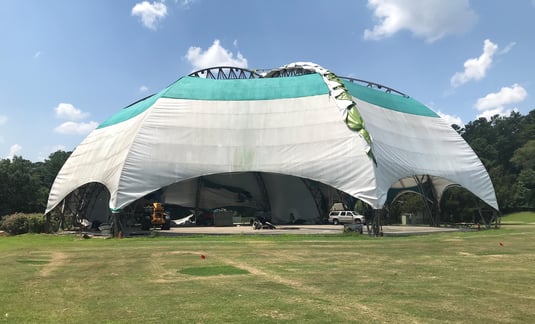 Portomod Structure prior to new skin
Seaman Corp Photo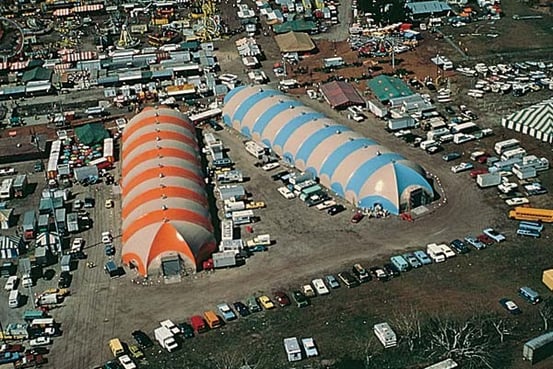 Original Portomod Structures installed at World's Fair (1970's)
Seaman Corp Photo
The original framework and fabric structure, fabricated by Seaman Corporation, was called a Portomod®. These portable structures were built with Shelter-Rite® Architectural Fabric that stretched over steel trusses. Portomods were popular solutions for military storage, exhibit halls and outdoor recreation because of the longevity these fabric structures offer.

Twenty years after the installation at Callaway Gardens, the original fabric skin was replaced. Now, 20+ years after that replacement, the skin has been replaced again with even better technology for increased longevity. Each time the skin has been replaced, the framework has been inspected and deemed fully functional to be reused, offering a tremendous cost savings.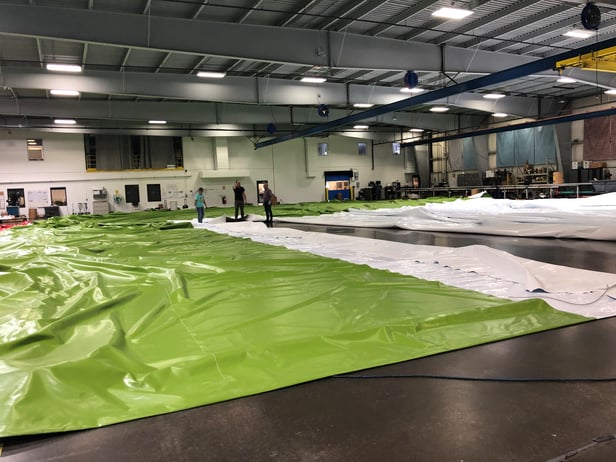 Assembly of New Skin
Seaman Corp Photo
Fabrication of the new skin started June of 2020 at Seaman Corporation and was shipped to Callaway Gardens for installation the end of July. The installation of the skin was done in phases and completed and was ready for reveal early in October 2020, just in time for the Fantasy in Lights season at Callaway Gardens.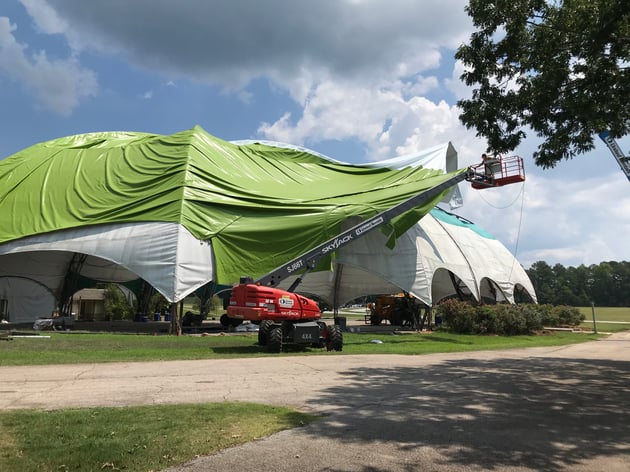 Construction of New Skin
Seaman Corp Photo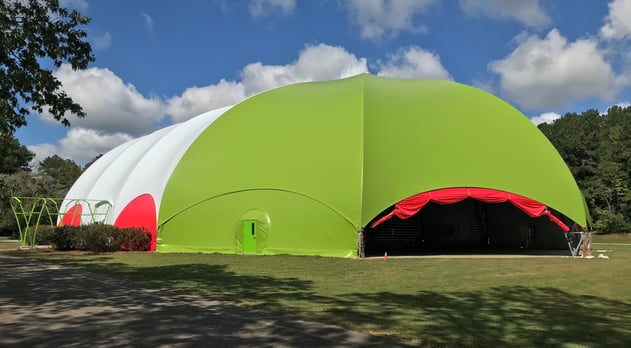 Finished Portomod
Seaman Corp Photo
Shelter-Rite Architectural Fabrics offer a variety of color options, custom color-match and a broad line of top finishes and high-end coatings for long-term aesthetics. This particular application required a custom-color match for the green and used a Kynar® based coating. The Brite-White used for 8028 has Tedlar® PVF Film and the removable, roll-up curtains are a warm red PVC compound.
Kynar® and Tedlar both have outstanding dirt shedding properties and use long lasting pigments as they are formulated to provide superior color fading resistance.
Kynar® Topcoat
The unique property of a Kynar® top coating system is that it can be made in any custom color. The green is a custom color which uses a Kynar coating to achieve a color match. Kynar® resin has earned a reputation of maintaining a like-new appearance on many building envelopes to promote great dirt resistance and colorfastness. The unique chemical formulation retains its color for the life of the fabric.

Tedlar PVF Film
Tedlar PVF film provides resistance to dirt pick-up. It is basically self-cleaning to provide a high performance, long-term durable surface that exhibits excellent weathering resistance and color fastness. Tedlar is based on Teflon® technology.
The principle in extending the life of a structure is to maintain the tensile strength of the base fabric. Shelter-Rite's proprietary coatings are weather resistant and protect the base fabric from UV light. It also incorporates a fungicide into the coating compounds to reduce dirt collection on the material to assist in combating these fungal attacks. Combined with the high-end exterior coatings, this fabric structure will maintain longevity both aesthetically and physically.
The design flexibility, long-term performance, durability and lower overall cost are just some of the benefits that make a fabric structure an attractive option. For this particular project, this iconic circus tent has stood the test of time, maintained a long aesthetic life and served as a place where people can gather and make memories year after year.
About Callaway Gardens

Callaway Gardens is a beautiful 2500 acre resort that is a public, educational, horticultural and charitable organization. It is owned and operated by the non-profit Ida Cason Callaway Foundation. The resort offers beautiful gardens, hiking and biking trails, butterfly center, beach and water sports and much more. The event calendar is also full with balloon festivals, a steeplechase and fantasy of lights, just to mention a few. It has been a destination for families, couples and friends for decades. To learn more, visit here.
Kynar® and Kynar Aquatec® are registered trademarks belonging to Arkema Inc.