Two new air-supported structures on the Drexel University campus provides safe indoor space for the university and community to enjoy sports activities during cold weather months.
Project Details
Client: Drexel University: Vidas Athletic Complex and Buckley Field
Project Site: Philadelphia, PA
Installations: 2019
Fabric: Shelter-Rite® Style 8028 with Granite Gray Tedlar® with accent color of 8028 Blue with Acrylic top finish. Vidas includes a 8028 DC-184 Trans with Brite-White Tedlar® skylight
Manufacturer: The Farley Group

Project Story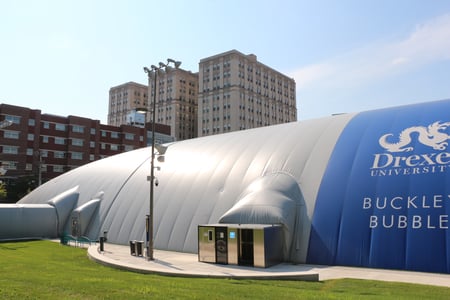 Many people refer to them as "bubbles". They are large, impressive, dome-like air-supported structures that commonly serve as an expansive indoor space to conduct athletic activities and protect from the outdoor elements. They offer a cost-effective, long-lasting solution to utilize a space more effectively. When Drexel University, located in Philadelphia, PA wanted to extend their outdoor sports seasons into the colder months, they explored the benefits of air-structures for the flexibility of switching back to outdoors during the Summer. They selected two locations on campus for air-structures and installed both of them in the Fall of 2019.
The first air-structure was designed for installation over the Buckley Recreational Field, an existing multi-purpose filled-in turf located in the heart of campus. This 26,400 sq. ft. space is utilized by the softball and baseball teams, ROTC and is available to the community for recreational use. The Drexel Board of Trustees also held their annual dinner inside the bubble.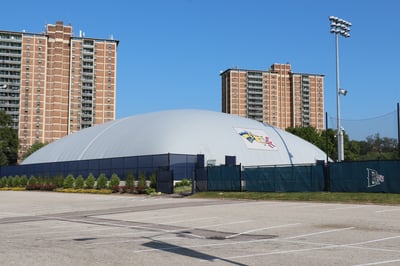 The second air-structure covers the tennis courts at Vidas Athletic Complex on campus. It is utilized by the tennis team to practice during the Fall and Winter season. This structure is 19,560 sq. ft. and has a 21' x 74' skylight in the 40' center peak. The additional space these air-structures offer on this urban campus allows the university to grow all their sports programs and gives the students and the community a safe space to engage in physical activity. When cover is not needed, these structures can both be collapsed for storage and weigh in at about 3,000-4,000 pounds. They are equipped with lighting and security cameras. and offer an ideal year-round recreational space for the university and the community.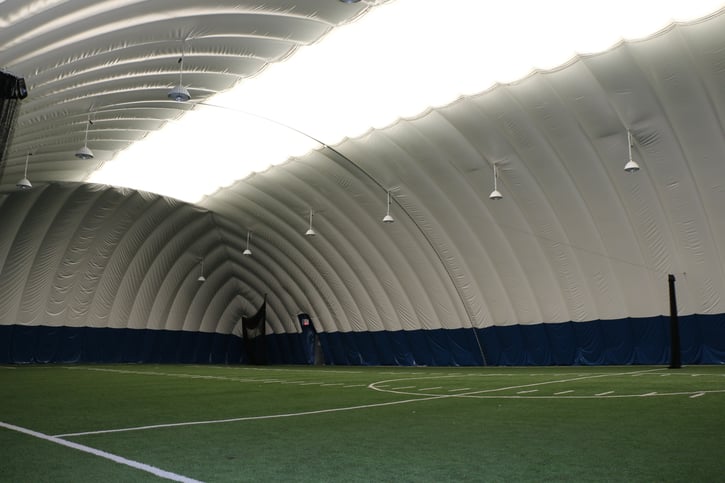 Unlike other types of buildings, an air-supported structure creates a large clean space, unobstructed by supporting walls and columns. This can offer an economical solution to cover a large clear span area. Due to the expansive size, outside aesthetics are important to keep the area where it's installed attractive. A clean air-structure can be a beautiful addition to a space, but one that is dirty and fading can ruin the appeal of the outdoor space. Shelter-Rite® Architectural Fabrics are engineered with a proprietary coating formula for superior UV and mildew resistance to help keep the structure attractive.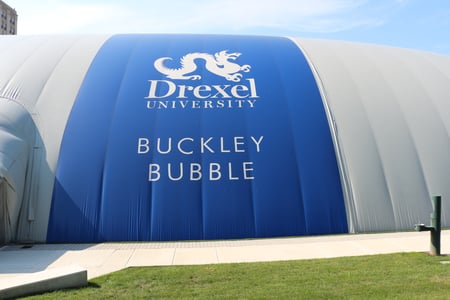 For added protection, high-end exterior coatings can be used to maintain the aesthetics and offer long-term cleanability and color stability. The Drexel University air-structures were specified with Shelter-Rite 8028 with a Dupont™ Tedlar® PVF film. While the majority of air-structures are white, the University wanted the structures to blend in with the urban surroundings.
As a result, they selected granite gray with blue accents, which also compliments the university's colors.
Tedlar offers outstanding dirt shedding properties and with the addition of long-lasting pigments, this formulation provides superior color fading resistance. This Teflon® technology is basically self-cleaning to promote a high-performance, long-term durable surface and can be used with white or colored fabric. Combining this with the strength of Shelter-Rite's unique weft-inserted knit fabric provides excellent tensile, tear and seam strength. This time-tested technology has resulted in structures that will maintain long-lasting aesthetics.
Do you have more questions about air-supported structures? Contact us to discuss your project.