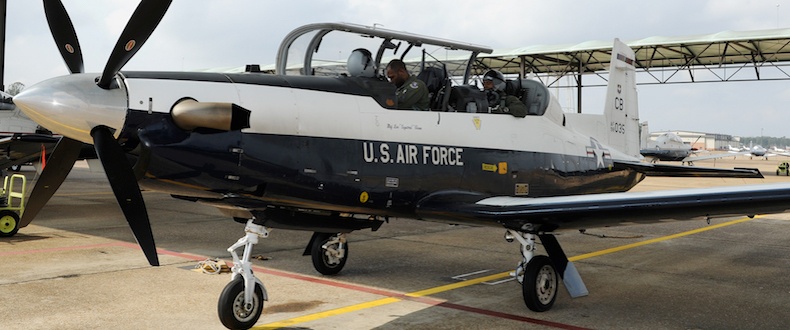 Using architectural fabrics to re-cover existing structures is a cost-effective way to extend the life of buildings. But saving money doesn't have to mean cutting corners on quality. When the U.S. Air Force needed to recover flight line sunshades on 20-year-old structures at its Columbus Air Force Base in Mississippi, it explored a number of options.
The sunshades had already been reskinned several times and were damaged by weather and UV exposure. The shades provide critical protection from the elements for both multimillion dollar aircrafts and the crews that work on them.
Working through the Army Corp of Engineers, the project was eventually specified to use Shelter-Rite 9032 Desert Sand colored Tedlar coated fabric, one of the heaviest duty fabrics available for both strength and UV resistance. The shelters had previously used different products. The Corps selected Shelter-Rite for a number of reasons:
Prior positive experience with Shelter-Rite on other projects

Sought longest possible lifespan and was assured by a 20-year performance warranty and track record of as long as 30 years

The product's Desert Sand colored Tedlar coating has self-cleaning properties, which help with aesthetics, but more importantly extend life by providing outstanding UV resistance.

In a hurricane zone at a busy air force base, the material would see a lot of use and had to be as tough as possible

Needed a strong product that could withstand aircraft emissions, which can typically shorten fabric life

The

fabric color helped the product blend into the background with a "desert sand " appearance on the outside face, and a white underside that increases visibility for workers
The contractor on the job, FabriTec Structures,LLC of Dallas, designed both the covers and attachment methods. Seaman Corporation collaborated with FabriTec and the U.S. Air Force to develop an ideal system for design, installation and efficiency after helping them understand which product would work best for the application.
The military likes fabric structures for their versatility, cost-effectiveness and reliability. They use them for many projects, including recreational structures, training facilities, housing and more.
The project ultimately breathed new life into an aging structure, and met all the rigorous specification set forth by the Air Force. Each fabric structure and project is unique. When you're evaluating your options for architectural fabrics, consider these things:
Location is very important. Each fabric has its own advantages. Consider whether the structure will be

exposed to high winds, UV, salt spray and/or various other pollutants. In colder climates, the ability to handle snow load is critical.

Use matters. Determine if the material needs to be translucent

(

for natural lighting

)

or opaque for heat reduction inside the building.

Looks count. More and more organizations want structures that look good and blend into their settings. Finding a product that offers an array of colors can be a difference maker.
Fabric structures are remarkably versatile and long-lasting. The key on any project is to identify the use of space, set clear expectations for the expected lifespan, determine environmental and aesthetic factors, and then develop a safe and effective solution that meets building requirements and codes for the area.
To learn more about the many uses of architectural fabric membranes on structures, contact Seaman Corporation.