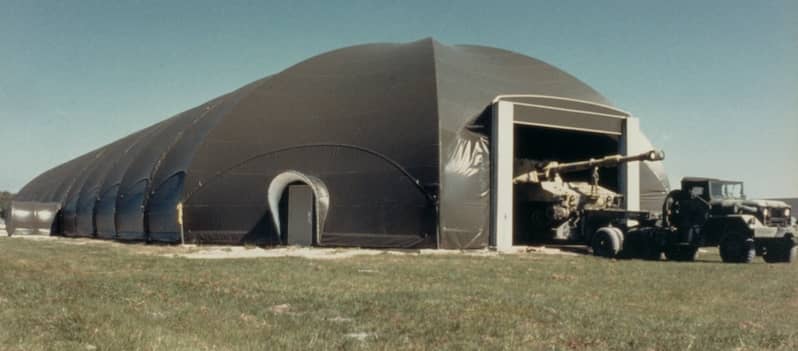 The American Society of Civil Engineers (ASCE) Tension Membrane Committee has revised ASCE 55-10, the organization's primary set of guidelines for designing a wide variety of tensioned fabric structures. While these guidelines are updated every five years on average, this latest revision is extensive compared to others—which makes the new set of guidelines, Tensile Membrane Structures (ASCE 55-16), a must-have resource for anyone building and assembling tension structures.
Similar to ASCE 55-10, the updated standard provides all the answers you need to make informed decisions at every stage of structure development. "How should one calculate loads and stresses? What test methods should be used?" This updated standard will answer how to design a structure to meet codes and more. Unlike ACSE 55-10, the revised standard includes a special chapter on air-supported structures for the first time, making it a crucial resource for engineers and fabricators of this structure type.
The ASCE Tension Membrane Committee heading up the major revision of ASCE 55-10 included industry experts in architectural membrane structures and was led by Edward M. DePaola (PE, SECB, F.SEI, and President and CEO Severud Associates Consulting Engineers). The committee broke into two subcommittees, each addressing a type of architectural structure. One committee focused on the special provisions needed for air-supported structures and the other focused on provisions for structures that are supported by frames. Additionally, seven working groups, each addressing a separate topic that's important when engineering tensile membrane structures, met routinely to work through the standard's overhaul.
The working groups spent over three years revising the standard with a main goal of bringing it up to date with current building codes and engineering principles. Here's a brief overview of what the committee addressed:
Revising descriptions and terminology to bring them up to date.

Discussing the wide range of polymeric materials currently used in architectural structures.

Updating how to test different materials.

Defining which standards make sense for each material.

Updating physical testing areas.

Better defining fabric-to-fabric, fabric-to-nonfabric and nonfabric connections to ensure performance.

Basing the new "Design Loads" chapter off of the Minimum Design Loads for Building and Other Structures standard (ASCE 7).

Adding air-supported structures throughout the updated standard. Additionally, chapter six was added to specifically address air-supported structure requirements.

Updating all fire specifications and standards to meet current codes.

Adding new graphs and charts.
The talents of many individuals went into revamping the ASCE 55 standard. Most of the changes were made to ensure the structures being built today are safe and secure—so catastrophes can be averted.
What are your thoughts on the new ASCE 55-16 guidelines? Tell us about them in the comments!