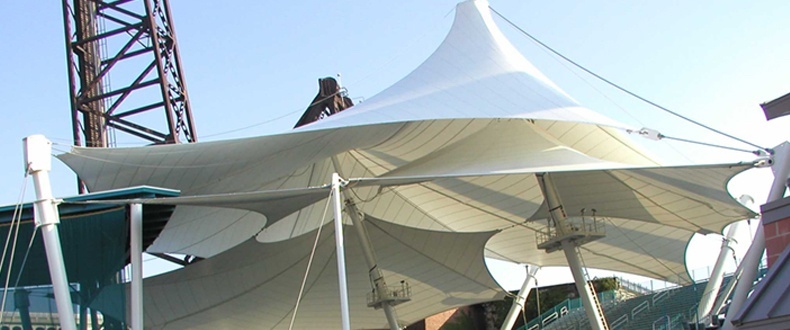 When designing a new fabric structure, it's important to consider a number of factors to ensure the best outcome and longest lifespan. Here we'll cover some of the design and material considerations for most fabric structures.
Design Factors
Adequate bracing keeps structures rigid in high winds or in cold environments when facing snow loads. Fabric with accumulated snow must be able to handle the weight just as the frame does. Once again, building codes are helpful here, but only to a point. Wind and snow can combine to overpower estimates used by regulators, so it's best to choose suppliers—both for fabric and framing—that exceed building permit requirements. A fabric that effectively sheds snow and ice throughout its lifespan is also an important consideration in a four-season environment.
Any openings in the fabric have an effect on strength, so choose a vendor that designs door and window frames to handle wind load in accordance with the building codes.
Building Purpose
As the "Importance Factor" rises, so does the need for over-engineering it. If your structure is unoccupied and not storing high-value or sensitive materials, it can be OK to meet minimum requirements. As the importance rises with the human or property value the structure is protecting, it's important to increase the strength of the structure accordingly. Paying a little more provides vital protection through the life of the building.
Exposure
If the structure is sheltered by buildings, trees or terrain, it may not require as much reinforcement, but it's vital to follow building codes and often wise to ignore outside factors and build under the assumption that the structure will be afforded little outside bracing from terrain, woods or other structures.
Choosing Vendors
Use a reputable installer that has experience designing and building similar structures in similar environments. Experience working with the fabric you choose is helpful as well.
These considerations are just some of the keys to a successful fabric building installation. For more tips,contact Shelter-Rite.