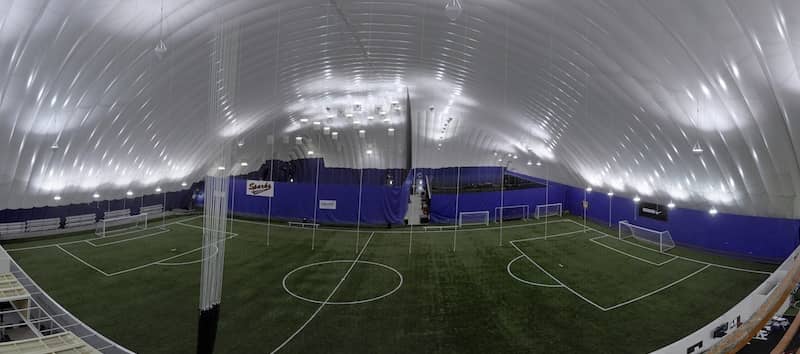 Air-supported domes are versatile building systems that are great for sport applications, as these structures do not require columns or other support beams. The large, open spaces protected by the domes can be utilized as year-round sports facilities. While there is no need for support beams, there are several vital structural and design elements to consider. Seven of these components are outlined below.
1. Fabric
Choosing the proper fabric is imperative for any air-supported structure. The fabric is responsible for protecting those occupying the dome at any given time, and requires the following properties for a long-term air supported structure:
UV resistance
High tensile strength to carry the loads (wind, snow, etc.)
Meet local fire codes
Strong puncture resistance
From a design perspective, the fabric selected is responsible for the look and feel of your sports facility. Choose an architectural fabric that not only meets your structural needs, but also possesses the level of customizability you need from a color and translucency standpoint.
2. Welding and Cabling
The welding of your selected architectural fabric also plays an important role in the performance of your air-supported structure. The seam integrity when put in shear should be as strong as the fabric material without a seam. Seams should be tested under static load for a specified length of time to ensure seam quality. If the specified structure is a large, wide-span dome, additional cabling will be required. This cable reinforcement system will provide additional strength to the overall structure and help minimize failure.
3. Insulation
As with any building, the addition of insulation can help control the heating and cooling costs of your air-supported structure. Insulation can also reduce noise pollution by minimizing the amount of sound allowed into the dome from the surrounding environment. When looking at the insulation package, the main contributor to the Rvalue is the air space between the inner and outer layer and the thermal characteristics of the insulation. Make sure to take this into consideration to reduce your operating costs.
4. Mechanical Equipment
Mechanical equipment is required to keep your dome inflated properly. Your main heat and inflation unit will monitor the dome's internal pressure and adjust temperature / pressure accordingly. In the event there is a loss of power, or the main unit fails, a standby system should be incorporated into the design.
5. Entry and Exit Ways
Entrances and exits that are designed to keep air trapped inside need to be specified for air-supported structures. Generally, revolving doors are the best option as they provide barrier free access. However, larger, airlock doors suited for vehicular traffic might also be considered in the event large maintenance trucks or emergency vehicles need to enter the dome. Emergency exits also need to be implemented in your sports dome, with both emergency signs and lighting.
6. Lighting
There are typically two types of lighting systems that can be utilized to provide optimal light levels to meet your specific requirements. A suspended lighting system and floor, side tilted, lighting systems are common. In some cases, the structure can allow natural lighting by the use of skylights or by the translucency of the structure. Discuss your specific application with the manufacturer to determine which system best fits your venue.
7. Dividers
Dividers will help keep occupants safe whether they are spectating or participating in the sporting events occurring in your air-supported dome. Dividers are generally constructed from netting and / or fabric. Contact a manufacturer if you are unsure which type of divider will best suit your unique needs.
What other components do you focus on when designing an air-supported structure? Tell us about it in the comments.
---
Information in this article based off content from The Farley Group.