Seaman Corporation featured speaker at US Indoor Facility Operators Conference Executive Breakfast
May 2-5, 2016 The 16th Annual US Indoor Facility Operators Conference was held in Henderson, NV. Seaman Corporation sponsored an executive breakfast session for owners and operators of sports facilities from all over the United States. The three day meeting featured presentations from members, seminars on local building regulations, operations techniques, and two days of convention floor trade show where members and sponsor could exhibit wares for the indoor sports facility industry. The US Indoor Conference and Trade Show is widely regarded as the premier educational and networking event for the indoor recreational sports industry.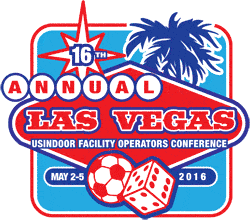 Seaman Corporation, along with Joe DiCesare, Global Architectural Fabrics Market Manager, and Felon Wilson, Director of Industrial Fabrics, exhibited Shelter Rite Architectural Fabrics at the 3 day trade show. There, owners and builders were shown the latest PVC coated polyester architectural membranes featuring top finishes ranging from acrylic and PVDF to all of the Dupont Tedlar family of colored PVF films, and Seaman's latest printed color Kynar fabrics for building applications.
On the last day, Seaman Corporation sponsored the annual executive breakfast where Joe DiCesare made a presentation entitled, "Why Choose a Membrane for Your Building". Building owners and operators typically use both metal clad as well as membrane buildings, such as engineered frame and air supported structures. Each building type comes with their own associated operations costs and features/benefits. In either case, the architectural membrane offers advantages in design (strength to weight ratio), initial cost, design attributes, and of course safety, as highlighted in the chart below:
Design

Ideal for Large Span Constructions (air, frame, or tension)
It's all about strength to weight ratio!

Cost

Materials costs for under carriage and spans
Roofing costs
Construction / erection costs
Maintenance costs day to day and down the road

Safety

FR properties and low mass materials prevents human casualties in earthquake and/or other related collapse

Design Attributes

Unique lighting options - interior transmission, exterior reflectance
Integrates well with roof buildings, canopies, overhangs, and other architectural applications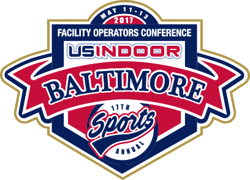 Industry statistics for 2017 show 5.0-6.5% growth in Sporting and Leisure activity buildings (as noted in the AIA Consensus Construction Forecast Panel), where new building owners can stretch their investment in looking at architectural fabric membrane options. Seaman Corporation can lead owners & investors to selecting the best US made membrane materials for their new sports facilities.
Seaman Corporation is a proud sponsor of US Indoor, and will be exhibiting again at the upcoming 2017 conference in Baltimore. We'll see you there. In the meantime, please continue to visit us at www.architecturalfabrics.com