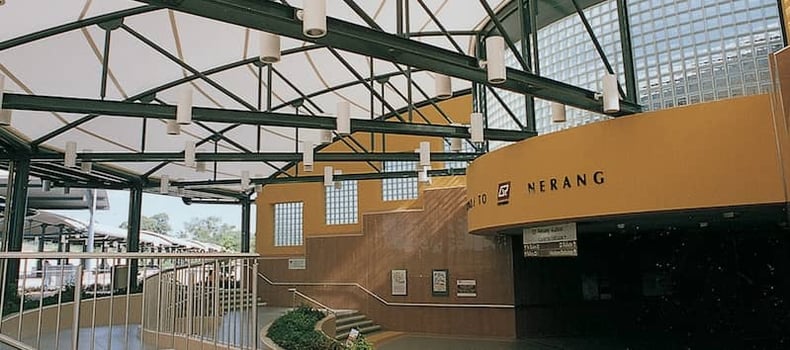 The IFAI Expo 2016 was held on October 18 through October 21 in Charlotte, North Carolina. Experts from all corners of the textile industry came together to discuss the latest and greatest solutions shaping the industry.
The Advanced Textiles Conference held educational courses from Tuesday through Friday that covered a wide range of technology. In addition, Specialty Fabrics and Shade & Weather Protection engaged the audiences with industry experts in the field who provided updates in the respected industries and technical expertise. Interactive workshops related to fabrication and textile testing gave participants the opportunity for hands-on training by companies participating in the trade show. IFAI market segment meetings were held throughout the week.
Seaman Corporation Industrial Fabric Group took its high-performance leadership positioning right to the limit during IFAI Expo 2017 in Charlotte. In addition to themed booth graphics that focused on our Architectural and Geomembrane products along with apparel for Seaman associates, we had a high-performance race car simulator in the booth, allowing our customers to test their skills behind the wheel. This focus helped us to create booth traffic and word of the unique Seaman attraction spread quickly throughout the show floor. All in all, a victory lap for Seaman Corporation!
During the expo, winners received awards for achieving excellence in a variety of categories. Shelter-Rite Architectural Fabrics was the proud recipient of two Outstanding Achievement awards this year—one for Tensile Structures and another for Other Structures!
The Capital Cascades Connector Bridge Solar Canopy is a custom-designed 4,000-square-foot solar canopy that spans over a pedestrian bridge in Tallahassee, Florida. Not only does this canopy provide shelter for those using the walkway, but it also provides power for LED lighting through the use of photovoltaics. The canopy is the largest example of flexible photovoltaic use on a membrane's surface to date, which added to the complexity of the project. Overall, the structure was able to meet the aesthetic requirements set forth by the client as well as the relevant electrical and building codes.
Learn more about the canopy project here.
Other Structures
The University of Arizona Radio Observatory, home to a 100-ton radio telescope, needed to replace two of the retractable panel doors on the telescope's fabric dome structure. The panels account for 4,920 square feet of surface area, and the replacement fabric needed to be both flame retardant and waterproof. As a result, Shelter-Rite was specified for the project, which also included the use of unique equipment to get the job done, including a 65-foot boom lift and 30-ton crane.
Learn more about the observatory project here.
Overall, the IFAI Expo 2016 was an excellent event that shed light on the various types of innovation occurring within our industry.
Did you attend the 2016 IFAI Expo 2016? Share your experience in the comments!